What did students think of the Winter 2020 Hackathon?
As you know, the MOSA Education & Learning Committee was proud to announce the Winter 2020 Hackathon winners this January:
Winners were chosen by Arvind Bhusnurmath, Senior Lecturer in CIS and CIT 591 instructor; Sampath Kannan, Henry Salvatori Professor in CIS, CIT 596 instructor, and OMCIT Co-Director; Jan Schulte, Solutions Engineer at Travis CI; and public vote. Shout-out to GitHub for sponsoring our participation prizes!
So what did students think? View responses to the post-hackathon survey below:
MOSA Education & Learning Committee is happy to say that the most frequent rating for participant experience was 10 / 10. The average experience rating was 8.46 / 10.

Most students felt that winter break was an ideal time to host a MOSA Hackathon. Spring break and summer term were the second and third most requested times, respectively.

15 of 33 respondents said that they would like to see MOSA host a themed Hackathon. These were their theme suggestions, with games and AI / ML being the most common requests:
"Machine Learning"

"Machine Learning Theme"

"AI or Blockchain"

"App development, web design, systems design, cyber hacking" 

"Fintech"

"I believe all hackathons should be themed; it does not matter what the theme is. An example of a theme could be a game."

"Games."

"Space, Pets, Automation, Games, Cybersecurity"

"Maybe something around solving a real-world problem like thwarting human trafficking or bringing aid to people in underdeveloped countries."

"Improve online learning experience. Create an open source project."
The Winter 2020 Hackathon had a 9-day duration to accommodate students who work full-time or have other holiday obligations. Most respondents felt that the time-frame was just right: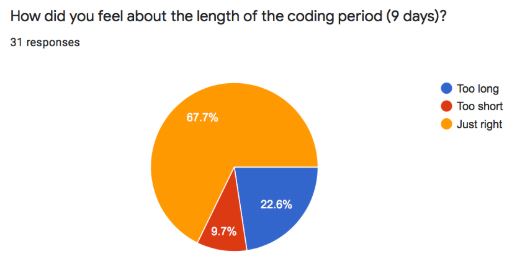 Qualitative feedback was generally very positive. Most issues or concerns related to team dynamics and logistical confusions. MOSA ELC hopes that as MCIT Online grows, increasing peer-to-peer networking opportunities can help students find their ideal Hackathon team. We are already incorporating your logistical feedback into the design of future events!
Here's what some students had to say about their experience:
I stepped into making a UI with Python, something I had never done in any language. The Hackathon gave me an opportunity to learn something new outside of my comfort zone.
Experience is entirely team dependent. Thankfully, my team was good and I knew who my partner would be before we entered the hackathon.
Hope to participate in another one soon!
Great setup and organization. Would be great to have more detailed rules… and also receive some feedback or scores from judges.
I enjoyed my experience and can't wait for the next one!
It was great and I learned a ton! It's my first hackathon and it was pretty well executed overall. I just wish we could get more feedback from the judges.enjoyed my experience and can't wait for the next one!
Thanks to all hackathon participants, judges, and sponsors for making this event a success!
Have thoughts or suggestions for what MOSA can do to make future hackathons as inclusive, productive, fun, and well-organized as possible? Want to help MOSA Education & Learning Committee host its next hackathon? Reach out at any time! Slack #mosa
Submitted by: MOSA Education & Learning Committee