University of Pennsylvania student organizations are now managed by Penn Clubs. If you are not yet recognized as a member of MOSA in Penn Clubs, please complete the following steps to request membership.
Steps for requesting membership through Penn Clubs
1) Login
When you navigate to pennclubs.com, you should see a red "Login" button on the top-right corner (as shown below). Click there to be navigated to the Penn login page, where you must login with your PennKey and password.

2) Customizing your Profile
At pennclubs.com/welcome, you will see a series of fields that will allow you to customize your profile on the Penn Clubs site. You will be able to add a public profile picture, change your graduation year, add your school(s), and major(s). On, Penn Clubs, clubs are able to designate "target" schools, years, and majors, to better personalize the browsing page for prospective members. Don't forget to hit the green "Save" button when you are done!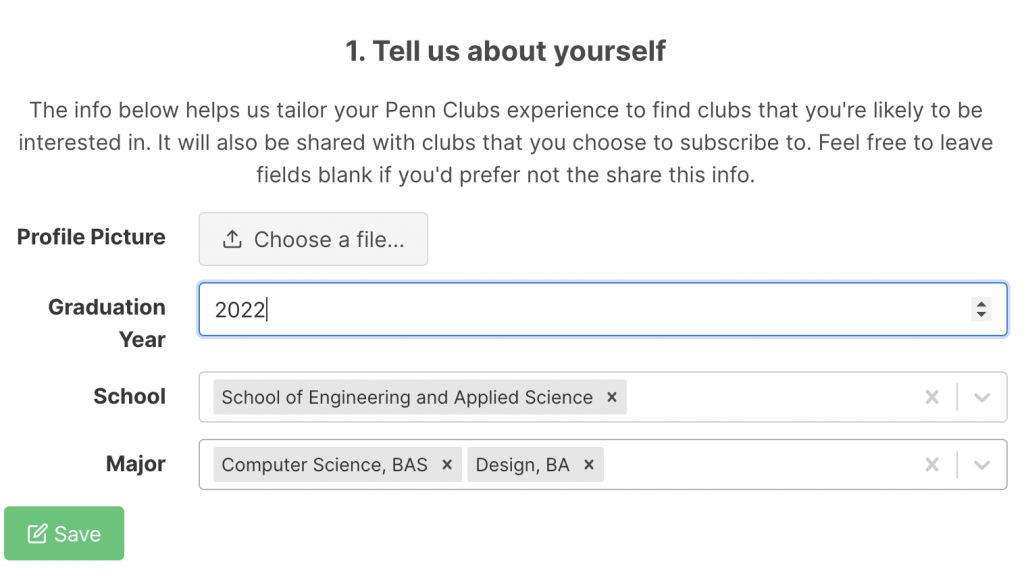 3) Being added to a Club
Once you navigate to the club's page of the club you want to join, hit the green "Request Membership" button on the top-right corner of the page, and click "Confirm" on the popup.
Once you do this, your club officer must approve your membership by navigating to the "Manage Club" page, then to the "Membership" tab, and approve your membership status in the "Membership Requests" section. After you have been accepted, a club officer can change your role name.
4) Wait for approval
This shouldn't take long but please be patient as MOSA admin reviews your request. You should receive notification once approved.
Once you've become a member, please join us in the MCIT Online Slack community at the #mosa channel for the most up-to-date communications and information about our events.
Follow MOSA:
Need help?
If you need more help on requesting membership, please reference Penn Club Onboarding. If you are still having trouble, please contact us.